Make it easier for your community to realize its vision for safer streets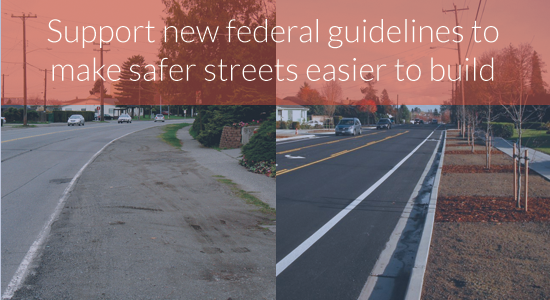 The Federal Highway Administration (FHWA) has proposed to dramatically ease restrictive federal design standards for many streets that make it difficult to design and build safer, more complete streets for all users. Scores of communities small and large are attempting to capitalize on their streets as economic assets and boost the bottom line by making them safe and attractive for almost anyone of any age to use them — whether driving, biking or walking — and these changes would be a big boost for helping them realize their plans.
This is indeed great news, but for these changes to go ahead, FHWA needs to hear that they have strong support for the proposed changes.
Can you take just one minute to generate a letter that we'll personally deliver to FHWA on your behalf? 
(For more background, read this post on the proposed change)