Extend the transit benefit and make it equal to parking benefit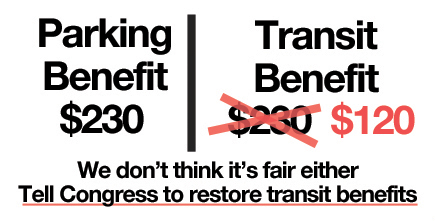 Come January, if you spend more than $120 a month on your commute in a vanpool, train or bus, the federal government will be sending a message loud and clear: they'd like you to start driving to work, where you can get $230 for parking deducted from your paycheck tax free.
Transportation is the second largest household expense for many households. The millions of Americans who depend on transit to get to work each day shouldn't have to pay more to do something that also saves us energy, reduces congestion and emissions, and uses less oil.
It's an unfortunate replay of exactly what happened at the end of 2010 when the benefit was due to expire before being extended at the 11th hour.
Let's let Congress know they need to keep the transit benefit from being slashed in half.