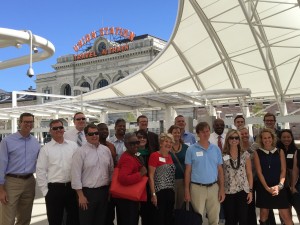 In the late 1990s, Denver was faced with a choice: Invest in new transportation options, or risk losing interest from businesses because of growing congestion and a lack of other options. So the city developed the $4.7 billion FasTracks plan to create a new network of light rail, commuter rail and bus rapid transit, and voters taxed themselves to make it all happen.
Last week, leaders from Raleigh, Nashville and Indy got to see the fruits of Denver's labor firsthand as part of our Transportation Innovation Academy in partnership with TransitCenter. The trip to Denver was the "site visit" in addition to workshops in each delegation's city over the course of this year. Armed with inspiration, practical knowledge and expertise from Denver, the leaders returned home to continue applying what they're learning to make their respective region's visions a reality. 
This yearlong academy is helping advance the plans of these three cities, but there's a bigger trend afoot. These regions are emblematic of a burgeoning group of mid-sized U.S. cities planning new transit service to meet growing demand, helping them stay competitive in the race for talent and ensuring that they better connect all residents to jobs and economic opportunity.