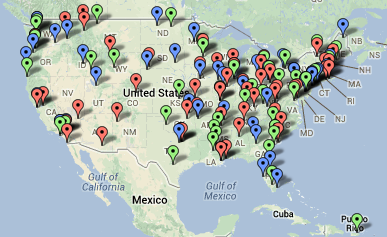 This morning, the U.S. House of Representatives postponed final votes on the yearly spending bill for transportation to June 9, delaying consideration of a bill that will make deep cuts to programs that local cities and towns across the country depend on.  With this extra time before the final vote, we want to make sure they continue hearing that communities big and small, urban and rural, all support these critical programs, so send a message to your representatives.
With ridership higher than ever and with states and regions looking to expand service (see first news story below), the House bill cuts Amtrak funding by $250 million. At a time when public transportation ridership is booming and cities of all sizes (see our Indianapolis profile, 4th item below) are looking to invest in new bus and rail transit projects to stay economically competitive, the House plans to cut funding for the FTA New and Small Starts Capital Improvement transit program by $200 million. And six rounds into the popular TIGER program that has funded innovative projects in communities of all sizes in 50 states — and in districts both red and blue — the House will be voting to slash the program by 80 percent to just $100 million next year.
The heavy cuts to TIGER are especially alarming for the hundreds of cities and towns that have benefited from them. The $3 billion-plus invested in TIGER since 2010 has leveraged 3.5 non-federal dollars to the table for every dollar of TIGER funding. As T4America's map of TIGER winners above shows, communities representing hundreds of congressional districts have won grants over the last five years. Many members likely to support the cuts to TIGER have even written letters of support for TIGER applicants in their districts and done their best to help projects in their communities win funding. 
We've got just a few days now. Send a message to your representatives and urge them not to cut funding for these critical programs.
Already sent a letter? Click through to the form and make a quick phone call with the number provided for your representative. Check the T4 blog later today and this week for details on some damaging amendments that were considered yesterday and today.